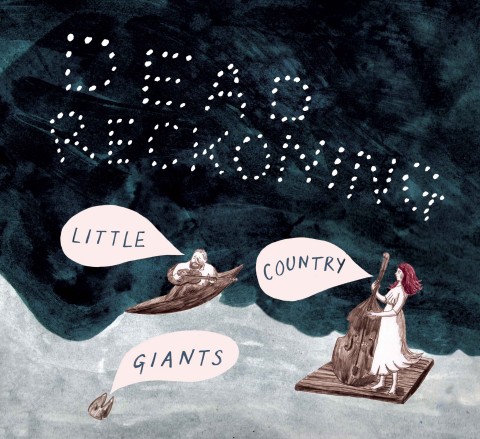 The new Little Country Giants album is freakin fabulous. It's like their Sgt. Pepper's with horns and everything. ~R.  https://t.co/9bE7gxm0l5

— ArtFRONT (@ArtFRONT) February 21, 2016
I wish everyone was privileged as I am to hear this full album play at least for a little while before the release shows at Eddie's Attic in Atlanta & Barking Legs Theater in Chattanooga…..
Little country Giants, everybody has heard of them , right? Well if not it's only because of the state of music industry management or lack of it,  or maybe because they all lead REAL lives behind their virtuoso sparkly,  performances and recordings which after 4 full length albums have proven they are incapable of writing a bad song.
Dax Rosetti, the producer of the stellar album that turned most of us on to Little Country Giants, "Breaking Hearts and Living Free"  is back with this one.  The new album titled "DEAD RECKONING"  (available on  iTunes via this link) which is also a song title,  pushes the boundaries set by their solid neo-traditional acoustic approach.  This time around the duo of  Russell and Cameron Cook take turns  alternating lead dominance on vocals on nearly every other song.  Dead Reckoning also sees LCG's branching out with more expansive instrumentation than on any previous release.  Colin Agnew drummer/percussionist for Adron & Blair Crimmins & The Hookers adds intricate fills  throughout the album and Dax Rosetti's vocals can be  heard distinctly on at least one number.
One of my favorite cuts, "Morning Time." Has lots of jazz licks incorporated.  It's a first time hearing that style from this band.
But Why is "Whiskey" not a top billboard country/Americana song? (Well the album DID just release a couple days ago..) There's nothing about it that shouldn't appeal to everyone who has ever been a fan of this entire stylistic universe of music.  "Modern country sprouts wings, escapes commercialism and multiplies it's integrity."  (Please quote me on that one.)  Dead Reckoning 's songs sometimes harken back to Gram Parsons and occasionally the Americana swing found in Wilco but the vocalists are highly recognizable.  My first exposure to the new record was catching a few bars played on our local NPR station.  With no introduction I immediately knew I was listening to Little Country Giants.
"Spark in the Dark" has the most complex vocal harmonies of any LCG's song ever, almost Simon & Garfunkely.  It sounds like Dax Rosetti singing in the background but I don't have any liner notes or credits,  just the song download.  I suppose I could just make up a bunch of stuff here but I've been a fan of theirs since they first stuck their heads out so I've got some experience calling out these instrumentals and backing vocals and I'm sure I'll be corrected if I'm wrong.
It doesn't matter anyway since the only important thing is the music itself.  One thing for sure if You've not yet been privileged to become familiar with the LCG's  this record is an excellent place to start.  It's kind of their Sgt. Pepper's, heck there's horns and even some electric guitars on it.
Long time L.C. Giants fans should all amass for their dual city album release shows at Eddie's Attic on Feb. 24th with metro hometown phenom ADRON opening (She has Creative Loafing ATL's indie album of the year etc. …) and at Barking Legs Theater in Chattanooga, TN on Feb. 25th.  So if you're among their Georgia contingency You'll buy tickets for their Eddie's attic show on Feb. 24th. Then of course it's just a short ride up to Chattanooga the next night to hear them close up in perhaps the greatest sounding small venue in the southeast.  I've got a lot of time and effort invested into getting the word out on this band, they've become one of our regional favorites for a very good reason.  Little Country Giants are a world class Americana and vocal harmony ensemble right in our backyard and working up close with them is "something to be proud of." (Yet another esoteric reference to their earlier song lyrics.) If you're not this familiar with their material yet you'll want to be after hearing and seeing this new start in the right direction.
~Robin Merritt ArtFRONT Presentations
Even with all the new flourishing innovations this older description remains true…
"Delivering pure, simple, and timeless rustic songs touching on country, bluegrass, and even rural blues, husband-and-wife duo Cameron Federal and Russell Cook produce artful work on par with the finest of the expansive genre. Masters of the lexicon of rural music, Little Country Giants create music rich with the sounds of Georgia's roots and the musical seeds of America grown. "
-Adam Klein, Cowboy Angel Music