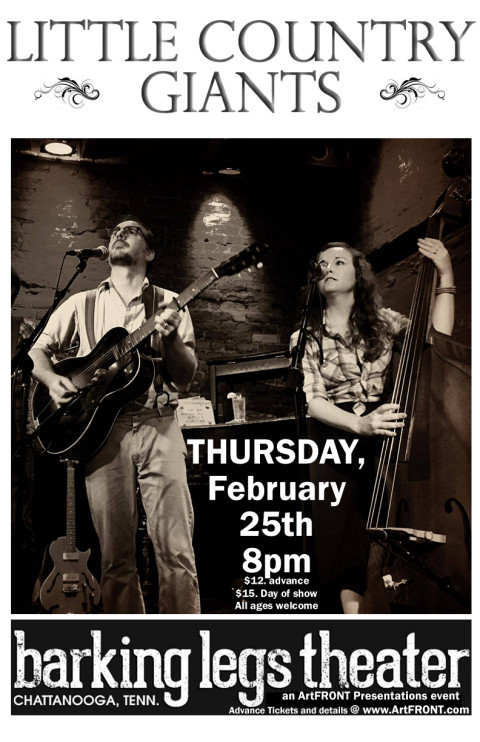 LITTLE COUNTRY GIANTS
Album release show & celebration
with special guest WEBB BARRINGER
Thursday, Feb 25th.  8pm @ Barking Legs Theater, 1307 Dodds Ave. Chattanooga, TN $12. advance,  $15, day of show.
Little Country Giants' new album is a wrap….. Up until this month "DEAD RECKONING" was "in the works," with preview copies only available to backers of their successful Kickstarter campaign.   Now it's ready to unleash at their special celebration at Barking Legs Theater on Thursday, February 25th. The Gang from Georgia, headed up by husband and wife team Russell & Cameron Cook have been tight lipped about the contents and title of this one, but the new songs I've heard played on WUTC 88.1 give away a rollicking new side of this favorite band of ours… Captivating, melodic and genuine as hell, Little Country Giants have not only won awards as the best traditional folk band in Georgia but consistently dazzle their dedicated fan base and any newcomers who are lucky enough to find them and their music. All their long time fans and everyone who enjoys the top echelon of Americana musicianship, vocal talent and stage presence surely needs to to come out and see their surprises, including the current band lineup and all the new songs they have in store for us this time around.
With an opening set by Webb Barringer.
While Little Country Giants are perhaps the finest representation of genuine southern music from the appalachian region as a whole, soloist Webb Barringer brings us a focused local folklore tableau as a new generation's voice from the Chattanooga valley and it's overlooking mountains. A modern country music storyteller, Webb Barringer has been on a roll lately, capturing the attention of Chattanooga's nightlife in his many appearances in town plus his recent opening spot for Cardon Smith at the UTC fine art center's 300 seat Roland Hayes concert hall.  With song lyrics occasionally delving into local lore of  historical subjects ranging from the Tri-State Crematorium,  female phantoms of the Read House and a mysterious homicide atop Signal Mountain, his songs are memorable and melodically solid.   Now it's time to hear his tales of passion, wonderment and woe in the southeast's finest intimate listening environment.
Included for your enjoyment is a clearly outstanding set of 6 original songs and one cover descriptively titled:
"Webb Barringer Live at Rhythm and Brews."
~Robin Merritt, ArtFRONT presentations
Here's a couple of Little Country Giants' latest videos to give an idea of what we may expect on Thursday February 25th @ Barking Legs Theater in Chattanooga, TN.
Little Country Giants, "Alright To Be Wrong"
Little Country Giants, "Beale St Blues"